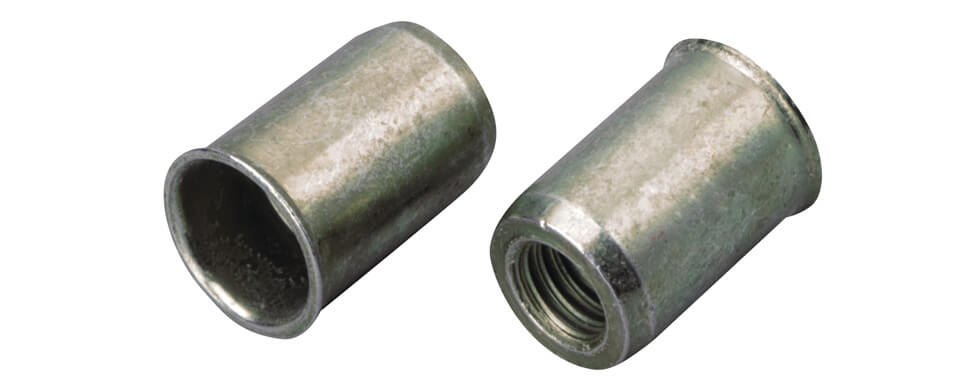 Fast Facts:
Can be used in very thin sheet materials from 0.50mm (0.02″).
Blind hole, one-sided installation capability.
Provides a female thread-in application.
Can be installed in pre-coated or post-painted applications without damaging the surface.
Various platings available to increase the corrosion resistance.
Low-profile version allows near-flush fit to application.
Large-flange version provides greater load-bearing surface. Reinforces hole to prevent push out.
Large-flange version can be used as a spacer and can be supplied with an underhead seal.
Clamps two or more sheets of material together, within the grip range.
Closed end prevents the ingress of dirt and fluids into thread and electrical circuits.
Assembly applications include automotive, electrical engineering, electronic components, sheet metal, domestic appliances, and general light fabrication.
Specifications:
Thread Sizes: M3-M10
Material: Steel, stainless steel, aluminium
Finishes steel: Zinc plated and clear trivalent passivated
Headforms: Low profile, countersunk, and large flange
Option: Closed end
Hole Size: Mainly imperial, soft metric for large-flange options
THIN SHEET NUTSERT® – TECHNICAL DATA SHEETS
Material
Headform
Series No.
Steel
Low Profile Low Profile, Closed End Large Flange, Closed End
Thin Sheet Nutsert® 9658 Thin Sheet Nutsert® FS38 Thin Sheet Nutsert® FS58
Stainless Steel
Low Profile
Thin Sheet Nutsert® 9468
Aluminium Alloy
Low Profile Large Flange Large Flange, Closed End 90° Countersunk 90° Countersunk, Closed End
Thin Sheet Nutsert® GM17 Thin Sheet Nutsert® FW78 Thin Sheet Nutsert® GM68 Thin Sheet Nutsert® FW96 Thin Sheet Nutsert® GM57