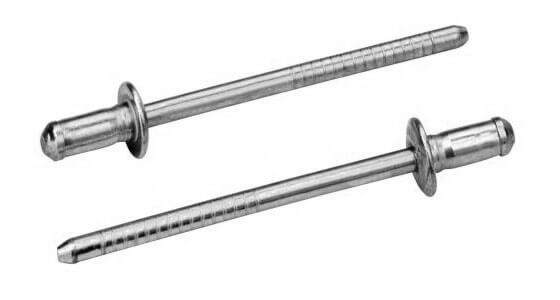 Fast Facts:
Non-structural breakstem rivet.
Retained stem.
Blind hole, one-sided installation capability.
High shear and tensile strength.
Good hole fill.
Provides a large blind side bearing area against the rear sheet.
Ideal for applications requiring elevated temperatures.
Spreads the tail bearing load/clamp on the rear sheet.
Ideal for use in thin sheet materials.
Compensates for irregular, oversized, slotted, or misaligned holes.
Can stop sheet movement in non-standard holes.
Provides strong, vibration resistant joints.
No damage, electrical problems, or rattling due to loose stems.
Breakstem fasteners can be customized to meet unique assembly requirements.
Specifications:
Sizes: 3.2mm (1/8″) to 6.0mm
Material: Steel, zinc & clear passivated
Headform: Dome