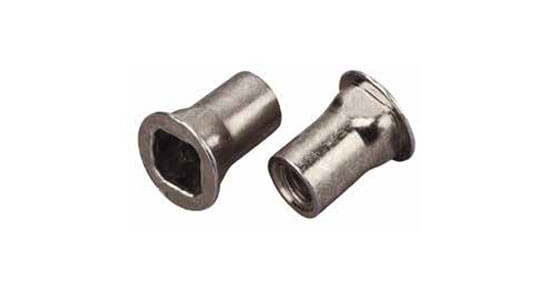 Avdel Squaresert (Nutsert SQ)
Fast Facts:
Improves torque-to-turn by up to 350% in sheet metal compared to round-body inserts.
Increases punch life compared to hexagonal geometries.
Blind hole, one-sided installation capability.
Superior pull-out performance.
Can be used for very thin sheet materials from 0.50mm (0.02″).
Provide a female thread-in application.
Can be installed in pre-coated or post-painted applications without damaging the surface.
Clamp two or more sheets.
Various platings available to increase corrosion resistance.
Large-flange head provides a load-bearing surface and reinforces the hole to prevent push-out.
Can be used as a spacer and can be supplied with an underhead seal.
Assembly applications where the Squaresert® is used include automotive body mountings, electrical enclosures, soft sheet metal, plastics & composites, domestic appliances, and general light fabrication.
Specifications:
Thread Sizes: M5-M8
Material: Steel
Finishes: Zinc plated and clear trivalent passivated
Headform: Large flange
Hole Size: Metric