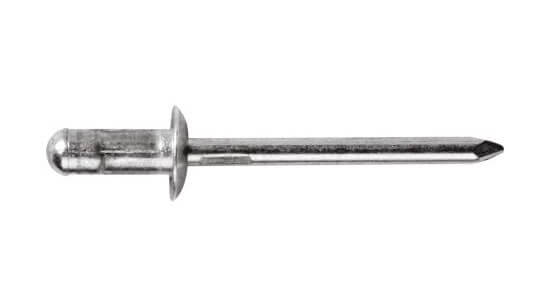 Fast Facts:
Non-structural breakstem rivet.
Retained stem.
Blind hole, one-sided installation capability.
Multi-grip capability.
Good hole fill.
Provides a large blind side bearing area against the rear sheet.
Wide choice of installation tools.
One fastener can be used to replace several standard grip fasteners.
Accommodates wide variations in material thickness.
Reduced fastener inventory and simpler stock control.
Spreads the tail bearing load/clamp on the rear sheet.
Ideal for use in thin sheet materials.
Compensates for irregular, oversized, slotted, or misaligned holes.
Can stop sheet movement in non-standard holes.
Provides strong, vibration-resistant joints.
No damage, electrical problems, or rattling due to loose stems.
Breakstem fasteners can be customized to meet unique assembly requirements.
Specifications:
Sizes: 3.0mm to 6.4mm (1/4″)
Materials: Aluminum alloy with steel or stainless steel stems
Headforms: Dome, countersunk, and large flange