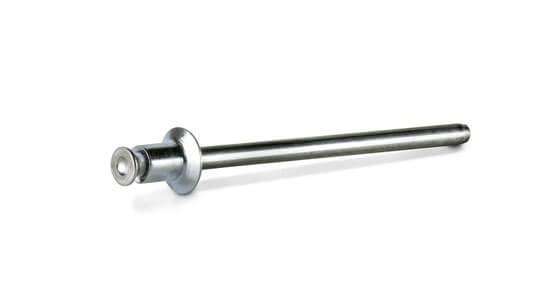 POP Pull-Thru (PT) Rivets
Fast Facts:
Flush set on both sides of the application.
Insertion can be reversed, improving rivet tool access.
Unique "Pull-Thru" mandrel. No loose stem heads remain in the application.
Consistent clamp force
Tight radial set provides increased structural rigidity.
Colored mandrels allow for quick visual identification of different part sizes.
Blind hole, one-sided installation capability.
Assembly applications include electronics, automotive, auto tier, and home & appliance.
Body Material
Mandrel Material
Head Style
Dome Head
Large Flange
Countersunk
C1006-1010 Steel
Steel
x
MARKET
APPLICATIONS
Electronics

Computer (steel metal) chasses and enclosures
PC boards
Electronic components
LCD panels
Communications equipment

Auto & Auto Tier

Sunroofs
Electronic/audio system components
Speakers
Cable harness
Courtesy lights
Switch panels
VIN plates

Home & Appliance

Cabinet drawers
Freezer drawers
Refrigerator drawers
Tool chest drawers
Paneling
Small brackets
PCB mounting