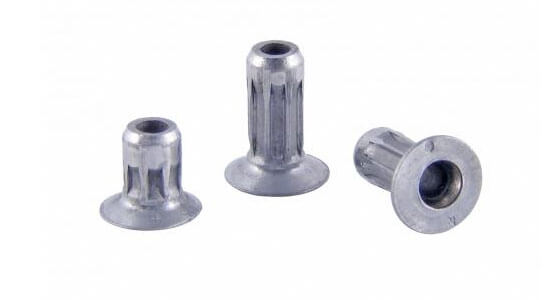 Avdel NeoSpeed Speed Fastening System
Fast Facts:
Multi-grip capability accommodates wide variations in material thickness.
One rivet can be used to replace several standard grip fasteners.
External splines fill rear sheet and oversize front sheet holes.
3x greater hole-size tolerance than standard breakstem rivets.
Far less sensitive to application variations.
Easier specification due to one-rivet x one-mandrel solution.
Typically half the installed weight versus an equivalent breakstem rivet.
Either magazine-fed or fed via a vibrating bowl to a wide choice of installation equipment.
Assembly applications where you will find NeoSpeed® fasteners include automotive, electronic, domestic appliance, electrical equipment, and general light fabrication.
Specifications:
Sizes: 3.2 mm (1/8″) to 4.8 mm (5/32″)
Materials: Steel, Stainless Steel A4, Aluminum
Head Styles: Mushroom, Countersunk